A SHORT NOTE ABOUT THE GROWING NUMBERS OF CHINESE AMERICAN DOCTORS
When I was growing up in Chinatown, we had only 2 Chinese American
practicing doctors that I remember, Dr. Harry Fong and Dr. Arthur Liu. It
may be hard to believe that now the very active Chinese American Medical
Society* (CAMS), which is based in New York, has about 1272 active members
from the eastern part of the US. Many of the doctors practice not only in
the present day Chinatowns of Manhattan, Queens and Brooklyn but also in
other areas of the city.
There is also a Federation Of Chinese American and Chinese Canadian Medical
Societies. This is an umbrella group which includes CAMS and other regional
societies throughout the USA and Canada. The combined membership of the
Federation is about 3000 doctors.
The Chinese American medical community has grown tremendously since the
early days when there were so few of us in medical school. I was the only
Chinese American in the 1958 graduating class at the State U of NY College
of Medicine at Syracuse NY and there may have been just a handful of
students of Chinese descent during the previous 50 or so years according to
available school archives. Of course there were not many of us in the US
population in those days. It should be noted however that NY's relatively
small Chinatown produced 12 doctors who were born there in the 1920's. The
Chu family had 4 doctors and the Ling family had 3. Five of us were all
born or grew up in this one building at 47 Mott St.
It's sad now to think that there had to be such a big void in the Chinese
American experience in medicine as well as in other professions. If the
Chinese Exclusion Act of 1882 had never existed, just imagine how our
history would now be written and how our future would then look. In spite
of the past, the road ahead should be bright.
Newton Chin, September 2013
*In 2010, CAMS honored 2 people who were born and raised in Chinatown.
Virginia M Kee (wife of Dr. Herbert Kee) was presented with an award plaque
for her impressive record of service to the Chinese American community.
As a mentor to two of New York's most prominent ophthalmologists, Drs.
Raymond Fong and Wilson Ko, I also received an award. It is said that if
you hang around as a member long enough, sooner or later, someone will give
you a medal (See http://www.youtube.com/watch?v=gmjm_9M-OGA a You Tube
video of a portion of the Gala presentation at Cipriani Wall Street).
<<click on photos below for a larger image>>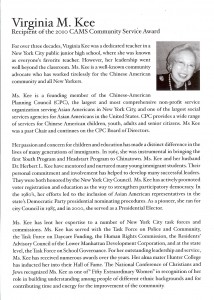 Virginia M. Kee

 Newton Chin from CAMS 2010 Gala Journal.
 L to R: Drs. Benjamin Peng, Raymond Fong, Newton Chin &  Wilson Ko, is from the CAMS Newsletter Dec 2010.