I REMEMBER (I Think) SOME SCENES OF CHINATOWN SPORTS FROM THE 1940s
<<click on photos below for a full-size image>>
A group of guys from Chinatown was invited to Yankee Stadium on Tuesday June 24, 1941 to present Joe DiMaggio with a good-luck Buddha charm hoping that he will continue his famous hitting streak. On that day he hit safely on his last at bat in game number 36 on his way to his historic record of 56 consecutive games with hits. I think that Shavey Lee, known then as the "Mayor of Chinatown" helped to arranged the event. Some of the Yankee baseball players, especially Lefty Gomez, used to go down to Shavey's Tung Sai Restaurant located at 32 Mulberry St (now the LeBaron Chinatown nightclub).
Joe DiMaggio with Chinatown team
The 1st photo shows from L to R, Leong Gay Lee, Richard Chin, Howard Chan, Jimmy Chin, Newton Chin and Joe DiMaggio. The insert has from L to R, Herbert Leung, Donald Chin, Harry Chin. This write up appeared the next day in the old NY World Telegram which gave some details of the game in the caption below the picture:
(Joe DiMaggio is shown receiving a smiling Buddha, a good-luck charm, from the "Young Yankees,"a downtown baseball team of Chinese lads, in return for the purchase of stamps to aid the Crusade for Young China. The good-luck charm worked. Joe went hitless until the eighth inning yesterday, his last turn at bat, when he singled. He has now hit safely in 36 consecutive games.)
Joe D with ChiAm boys1-Image1-145
In the 2nd photo, there are from L to R (back), Leong Gay Lee, Richard Chin, Howard Chan, Jimmy Chin, Herbert Leung, Donald Chin, Harry Chin, (front) Newton Chin and Joe DiMaggio. I think this appeared in the Sunday magazine section of one of the NY newspapers.
Actually we were from different senior and junior teams consisting of all "softball" players in Chinatown. We did not play "hardball" baseball in Manhattan. Also some guys were really NY Giant fans but on that day everyone was for the Yanks and DiMaggio.
Copy of Yankee autographs w Mrs. Joe DiMaggio
I don't remember much about the game but I do have the autographs from Joe DiMaggio, 5 other Yankees and the first Mrs. Joe DiMaggio (3rd photo).
There were many supporters of sports for the youth of Chinatown in the 1940s. Foremost among them was coach Lung Chin who inspired generations of basketball players both male and female. Along with Shavey Lee, there were Jack Chin, Hock Shop Hor, Fong & Ruth Hor, Detective Dick Tilson (Fifth Precinct), Hing Chu, Kang Chu and many others who were interested in helping the young people in town.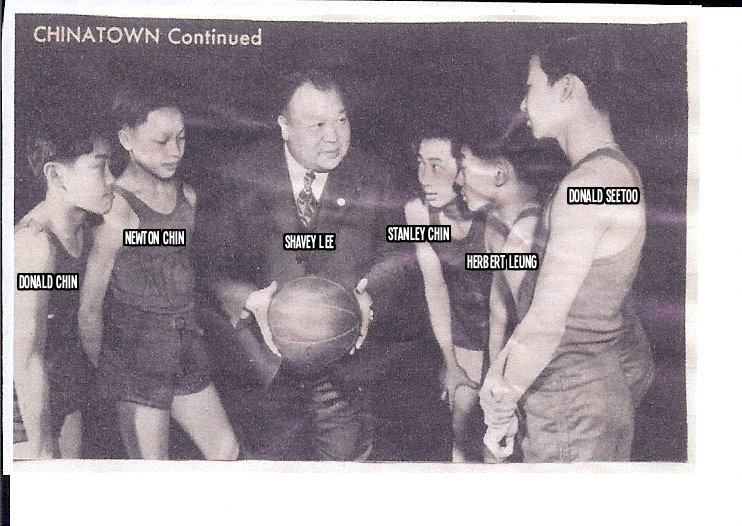 Shavey Lee with 5 midgets
The 4th photo shows Shavey Lee during the 1944-1945 basketball season with (L to R), Donald Chin, Newton Chin, Shavey, Stanley Chin, Herbert Leung, Donald Seetoo who were all members of a Chinese American Athletic Club "Chinatown Midgets" (sponsored by the Chinese Community Club which was located on Pell St). The team coached by Lung Chin and representing the local Fifth Precinct Police Station at Elizabeth St. in Chinatown, won the Police Athletic League New York City Midget Basketball Championship unbeaten in 25 straight games as reported in the NY Police Department newsletter (5th photo). The picture shows our coach with his full team. The Midgets even played an exhibition game at Madison Square Garden during the NIT college tournament before a sold out crowd on March 17,1945 (6th-10th photos).
PAL City Basketball Midget Championship
No. 6-Collages 1-MSG
No. 7-CH Midgets, MSG, Mar 17, 1945
No.8-CH Midgets, MSG,Mar 17,1945
No. 9-CH Midgets, MSG, Mar 17, 1945
No. 10-CH Midgets, MSG, Mar 17, 1945
Chinatown Midgets Basketball Team, 1945 PAL NYC Midgets Champions
The 11th Photo shows members of the Midget Team with supporters: L to R, (front), Fred Lee, Stephen Chin, James Wong, Edmund Chin; (middle), Newton Chin, Jack Chin, Dick Tilson, Shavey Lee, Coach Lung Chin, Alan Chin; (back), Donald Seetoo, Donald Chin, Stanley Chin, Andrew Lum, Herbert Leung.
Bruce Hall wrote about these Chinatown Midgets on pages 209 and 210 in his 1998 book, Tea That Burns, A Family Memoir of Chinatown:
"The Midgets triumphantly thwart the snickers of the rest of New York when they win the citywide championship in the early 1940s. It is a victory that people will still be talking about fifty years later."
Well, here it is 68 years later. Bless your heart Bruce Hall who sadly is no longer with us.
Newton Chin
August, 2013
Note: Two of the DiMaggio photos appeared in the 2010 Reunion Booklet.